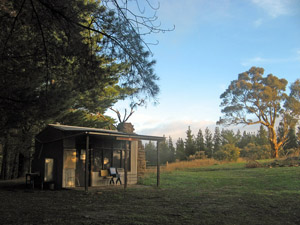 Renovations temporarily close Rossiters Hut on occasions during April 2022
Rossiters Hut will be closed to walkers for approximately one week commencing 30th March 2022 due to extensive renovation work being undertaken on the building.
A further closure is also planned towards the end of April. That closure is also expected to be for a week or so.
The work is being undertaken by the Friends of the Heysen Trail and ForestrySA and part funded under a Responsible Wood Community grant.
Rossiters Hut is located in the Mt Crawford Forest within the Mt Lofty Ranges fire danger region.
Many sections of the Heysen Trail are currently closed over the Fire Danger Season. The Fire Danger Season in the Mt Lofty Ranges continues through to April 30th.
However, as Rossisters is in a Forestry Reserve, walkers are able to use the Heysen Trail in the vicinity of hut, provided it is not a day of Total Fire Ban.
Please check the listing for Rossiters Hut on our website Accommodation page for the latest closure dates, as they are subject to change.