Heysen Highlights hot off the press
The End of Year Bash is on again. Make sure you are at Karka Pavilion, Belair National Park for lunch and fun on Sunday December 2nd 2018. This year we have something special – we also are launching 'Heysen Highlights' – Simon Cameron's companion guide to the Heysen Trail.
The Book – get it at the 'one off' Bash special price of $30 (rec retail $39.95)
The book has 264 pages with many colour photographs and will make an ideal gift and trail reference. To celebrate the launch, copies will be available for sale at the Bash, at the one day only special price of $30.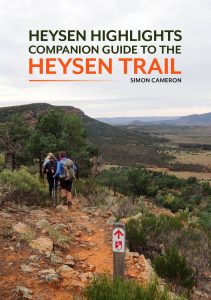 " The Heysen Trail is a 1200 kilometre adventure hike which runs along the rugged spine of South Australia. From the Southern Ocean's cliffs and beaches to the northern deserts. It is Australia's most diverse trail, over varying terrain and filled with a multitude of stories.
In this companion guide The Heysen Trail is broken into 58 sections, each comfortably walked in one day. For each day there is a brief overview of what to expect and what to look out for.
Simon Cameron joined the Friends of the Heysen Trail in 2001, the same year that he started walking the Trail. He has never stopped walking it. There is so much to see and so much to discover there never will be a reason to stop."
Simon will be there to  personally sign any copies purchased on the day. Make sure you get your copy.
The Band – Raunchy Sugar
Raunchy Sugar are returning as 'The Band', so this year don't miss out on a very special event. Get your End to End group or walking friends organised and be there.
Come along to Rock and Roll or maybe just relax amongst the lush green surroundings of Karka.
The Bash
The Friends will provide: Befores, BBQ meat and artisan bread.
BYO – wine, beer or soft drink, Bring a Salad or Dessert to share.
Don't forget a chair or rug, glass, plates & cutlery.
Bookings
Book early! $20 per person. No refunds! Book at:  heysentrail.asn.au/invite     or via the office.
To assist with catering, bookings close on Friday November 30.
Park entry fees are waived for attending members and guests.
We will have Friend's 2019 Calendars at the Bash for sale at the discounted price of $12. If you've already ordered a copy for collection, you will be able to pick it there.
Remember the venue: Karka Pavilion, Belair National Park. Upper Sturt Road, Belair