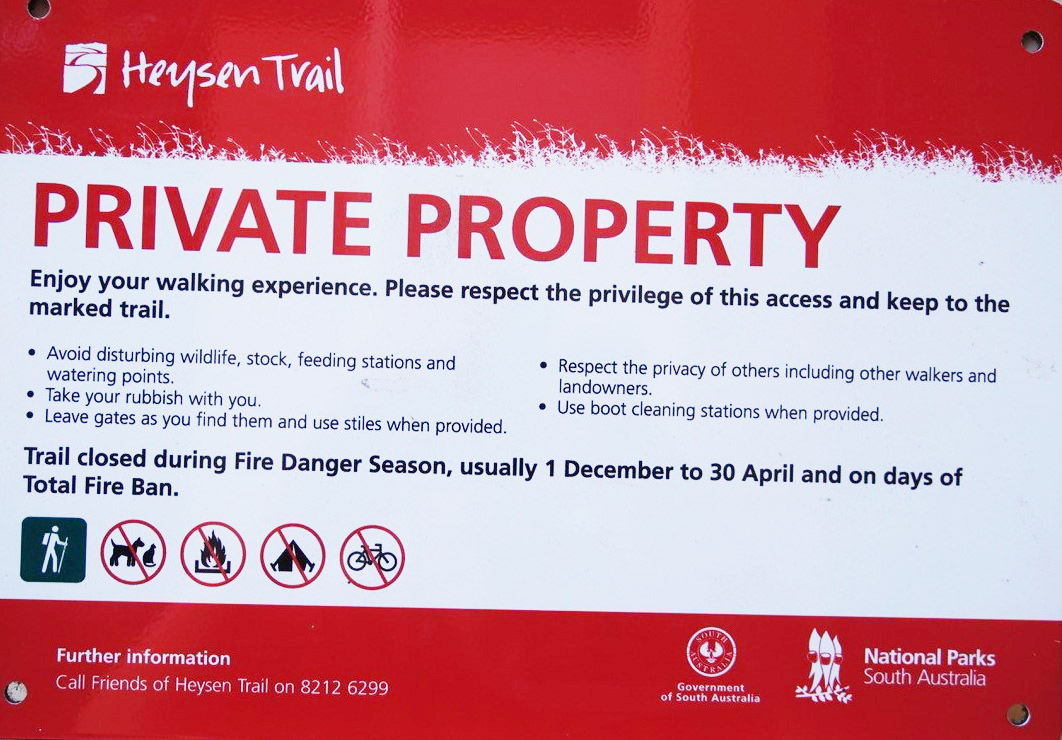 Mt Lofty Fire Danger Season commences
With the commencement of the Fire Danger Season in the Mt Lofty Ranges Fire Ban District on December 1st 2021, many sections along the entire length of the Heysen Trail are now closed.
The closed sections of the trail, generally those on private property, will reopen during April/May 2022. The re-opening dates vary across the three Fire Ban Districts the trail passes through.
Much of the trail traverses private property. The viability of the Heysen Trail is dependent on the continuing co-operation of private landholders. Therefore the trail closures must be obeyed during this period.
Some sections of the trail remain open over the Fire Danger Season
During the declared Fire Danger Season some sections of the Heysen Trail remain open to walkers. They are principally the sections of the trail that are not on private land. These include public roads, National and Conservation Parks and Reserves, Forests and vacant land. The Fire Danger Season page of our website provides a list of Trail Sections Open Year Round
Please note that National, Conservation Parks and Reserves and Forests are closed on days of Total Fire Ban. The CFS publishes these bans, as does the Bureau of Meteorology. In addition, the media also broadcast weather reports including fire ban information.
If you want to walk on the trail, check which Fire District you will be in. The Fire Districts are listed on the Fire Danger Season page and shown on the Interactive Map on the Friends website.
Access to Heysen Trail huts is also restricted
Access to huts on the trail is also restricted. A number of the huts along the trail are on private property and are therefore not accessible to the public (including walkers) during the Fire Danger Season.
These are:
Marschalls Hut
Huppatz Hut
Hiskeys Hut
Catninga Hut
Mayo Hut
Huts in National and Conservation Parks are accessible during the Fire Danger Season, provided it is not a day of Extreme or Catastrophic fire danger.
Huts in Forest Reserves are closed from November 1 to April 30.
Walking the Wild South Coast Way on the Heysen Trail
2021 is the first year that this newly declared walking trail, encompassing the Heysen Trail from Cape Jervis to Waitpinga and continuing on to Victor Harbor, is able to be hiked almost all year round. Although the new hiker campsites are still under construction, the trail along the Wild South Coast Way may be walked on any day except those of CFS declared catastrophic fire danger or other days declared by Parks to be closed. For personal safety reasons, the Friends recommends days of extreme heat should be avoided.
Walkers must keep to the track and not stray, camp or light fires on private land. Parks protocols for the fire danger season will apply.