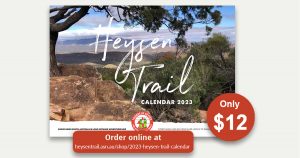 The Friends of the Heysen Trail Calendar 2023 is now available.
Just a reminder that copies of the Heysen Trail Calendar 2023 are in the Office and available for immediate pick up or delivery.
The calendar offers beautiful photographic images taken by our members and, at $12 a copy, offers great value and an opportunity to support the work of The Friends. Get one for your wall at home or work. They also make excellent Christmas gifts for family and friends, both here in SA or interstate and overseas.
Order from our On-line shop for delivery by post.
By ordering the calendar from our On-line shop you can request postage to an address in Australia or overseas. Postage charges to any address within Australia (for a single copy) will be an additional $4.80.
Save postage – pick your calendar up from the Office.
If you prefer, save the cost of postage by picking up your calendar from the Office. The volunteers there would love to see you.