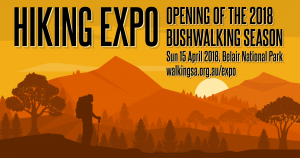 Opening of the 2018 Bushwalking Season
Come along to the Hiking Expo to celebrate the opening of the 2018 walk season.  It is the big event organised by Walking SA, the Friends and other walking groups to kick off the new walking season
When:       Sunday April 15, 2018 – 9.00am to 1.30pm.
Where:     The Gums Oval, Belair National Park.
Free entry to Belair National Park
Join in:
Expo of walking tours, walking destinations, outdoor retailers and walking clubs.
Guided hikes ranging from 45mins to 3 hours, including child-friendly and Accessible options. Guided Walks will depart every 10 minutes from 9:30am to 1pm.
You can secure a place on a specific guided walk by registering online or just arrive on the day and choose a guided walk to join.
Old Government House will be especially opened on the day by the Friends of Old Government House. Several of the guided walks include the House. Entry is by gold coin donation, with guided tours of the house and servants quarters, and self guided tours of the garden.
You can see the full list of guided walks on the Walking SA website
Join with Friends in a 'Walk to the Expo'
In addition to one of the many walks at Belair, you can also take a longer hike to the event. The Friends have organised two longer walks to the Gums Oval at Belair National Park.
These Trailstarter walks are listed on the Walks Programme on the Friends website. You can register for these walks now.
Cemetery (Barr St, Mitcham) to Gums Oval
The first walk leaves from the Cemetery at Mitcham. You will walk up through the foothills and quiet gullies of Randall Park and through the quiet back streets of Belair. From Belair train station, you will enter the National Park passing through majestic endangered ecosystem of grey box woodland.
This is a 5.5 km walk and will commence at 8.00am.
Register here for the Mitcham walk.
Reconciliation Park (Eden Hills) to Gums Oval
This walk starts from the memorial for the stolen generation at Colebrook Blackwood Reconciliation Park. You will wander through the Wittunga Botanic Garden, and then go past the cottage garden of the historic Gamble Cottage. The route includes some of the Sea-to-Summit trail and the Adelaide 100 concept trail.
This is a 6.3 km walk and will commence at 10.00am.
Register here  for the Eden Hills walk