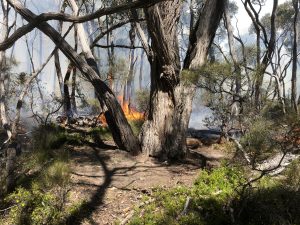 Temporary closure of the Coach Road, Ashton section of the Heysen & Yurrebilla Trails.
Natural Resources SA have announced that the Heysen and the Yurrebilla Trails will be affected by a planned prescribed burn tomorrow, Tuesday October 20th 2020.
The prescribed burn is planned for a section of private property near Coach Road, Ashton. The burn off area is adjacent to the Horsnell Gully Conservation Park.
The Coach Road/Horsnell Gully area is shown on Heysen Trail Mapsheet 2B and Map 3.4 of the Heysen Trail Southern Guidebook.
The embedded map shows the burn area, which is adjacent to both trails.
The Coach Road section of the trails will be closed during the burn operation on Tuesday October 20th (approx 12:00 pm until 7:00 pm). The trails may be closed on the following days depending on potential hazards such as falling trees.
Natural Resources apologise for the late notice of this trail closure. However decisions to proceed with prescribed burns are dependent on weather forecasts.
Parks staff will be erecting trail closed signs in the vicinity of the burn site.
If you have any questions, please contact Libby Mapletoft, Natural Resources Adelaide and Mt Lofty Ranges, on ph. 0427 494 518.