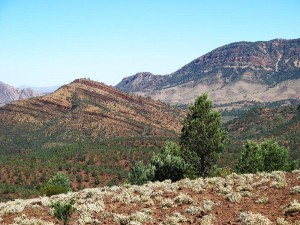 The Flinders Ranges National Park Draft Management Plan has been released for public consultation. It sets out objectives and strategies for the ongoing protection and conservation of the natural and cultural values of the Park.
Our Concerns
We at the Friends of the Heysen Trail consider that the plan is well presented and a valuable addition to strategic planning for the region. We wholeheartedly agree with the investment in upgrading the hiking opportunities in the Park.
We would suggest the plan provide the vision of a diverse trail network of well managed trails covering the many diverse landforms, plus the natural and cultural features of the park. And as such we would have to disagree on the suggestion to re-align the Heysen Trail.
On page 18, "Developing a world class multi-day walk (with minimal impact hiker accommodation) based on a realignment of the Heysen Trail along the foothills of the Heysen Range between Bunyeroo Gorge and Aroona Campground."
The most cited comment on hikers completing the Heysen Trail is that it provides such a variety of experiences. The countryside, vistas, flora and the fauna.
The proposal has the Heysen Trail continuing along the valley floor (mostly accessible by vehicle), rather than climbing to seeing the breathtaking vistas, trekking through geological ages, and through Sir Hans Heysen painting landscapes.
The proposed re-alignment of this section of the Heysen Trail:
miss out on some great vistas back to the Heysen Range and from walking through the Three Sisters from Sir Hans's paintings. It misses the diversity of this country.
miss the magnificent vistas looking across the ABC Range to the rugged profile of Wilpena Pound and the Heysen Range, are one of the great iconic features of the Heysen Trail and we recommend this be retained.
Importantly it misses the Golden Spike at Trezona – Enorama Creek – Australia's most significant geological feature, a world renown feature. Walkers on the Heysen Trail currently walk past the defining point, the 'Golden Spike'. Other features such as the glacier rock are also passed on the Trail.
The current alignment takes the hikers through historic landscapes and includes two hiker huts. These old shepherd huts have been converted to hiker shelter and accommodation. They retain the original architecture and rustic character of the original construction. These would be by-passed with the proposed re-route. Hiker accommodation is currently available at these two huts.
The proposed re-alignment would require significant investment on trail construction and hiker accommodation. We consider this an unnecessary expense.
Working with the Government
The Friends are happy to provide ongoing assistance with the management of the trail within the park, working with Department of Environment, Water and Natural Resource (DEWNR) to enhance and improve trail and walker experiences.
We are finalising our fuller submission to respond to the draft plan. Review the plan yourself and share your views and any concerns at environment.sa.gov.au/haveyoursay
Responses close July 31, 2015.