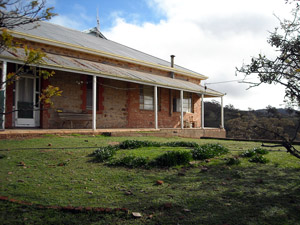 Accommodation
Self contained unit/house
Mapsheet
Mapsheet 6C, Wilmington to Woolshed Flat
Guidebook
Northern Guidebook, chapter 3, map 7
Location
3km east of trail
Guidebook note
3 km east of the trail, south of Mt Brown Conservation Park.
Facilities
5 bedrooms, around 20 beds. Includes 2 large bedrooms with about 5-6 single beds, 2 bedrooms with double or queen plus 2 or 3 single beds. 1 bedroom with only a double. Dining room with fireplace and large kitchen with aga, electric stove and microwave, and a spacious lounge. Modern (60s or 70s) bathroom, and 1 outside toilet. Spacious outside courtyard area well set up and well lit for bbqs, and a place for a bonfire, byo firewood.
History
Broadview is a big old crumbling farmhouse. The original two rooms were built of stone in mid 1800s, but has been extended many times.