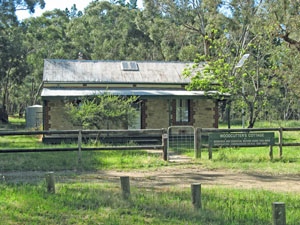 Accommodation
Hut,
Self contained unit/house,
Water Tank
Mapsheet
Mapsheet 1D, Mount Cone to Kuitpo Forest
Guidebook
Southern Guidebook, chapter 2, map 9
Fees
$133.00 per day / night (all inclusive - price valid as at 11/7/2021)
Facilities
2 km from the information centre on Brookman Road (Meadows to Willunga Road). Formerly the Youth Hostel this four room stone cottage, with solar- powered lighting; Two bedrooms, sleeping up to 11 people on five bunk beds (linen not supplied) ; Kitchen with gas cooking, sink, table and chairs (cutlery, crockery and cooking equipment not supplied) ; Lounge Room with slow combustion wood heater and chairs ; Verandah ; Picnic table ; Fire pit ; Rainwater (not suitable for drinking) ; Toilet ; Four horse yards
Maximum occupancy in the exclusive-use area is 20. Booking relates to facility and immediate vicinity of the venue & around designated fire pit only.
Notes
Please note that in addition to fire bans applicable to the Mount Lofty Ranges Region, special fire restrictions apply to ForestrySA accommodation and campsites. Provided that a Total Fire Ban has not been imposed by the Country Fire Service (CFS): Wood fires are permitted within the forest from 1 May to 31 October each year. Gas fires are permitted from 1 April to 30 November. Fireplaces should be cleared of all flammable material for a distance of 4 metres. Someone must be always present and ensure that the fire is fully extinguished before leaving. Forests are very sensitive to fire, so please ensure all restrictions are followed. Occasionally access to Forest Reserves may be restricted. Refer to
https://www.forestrysa.com.au/before-you-visit/forest-closures-and-alerts/
for forest closure information.