As early as 1947 it was advocated that a series of walking trails be developed in the Mount Lofty Ranges. Over the next few decades meetings were convened to discuss access to the Ranges. At a meeting in 1969, Mr C Warren Bonython proposed the concept of a long distance walking trail from Cape Jervis on the southern tip of the Fleurieu Peninsula to the Northern Flinders Ranges.
The first section of the Heysen Trail, nine kilometres within the Cleland Conservation Park, was opened in 1976. In 1978 the State Government Department of Tourism, Recreation and Sport gave the task of trail development to Terry Lavender and a further fifty kilometres, between Mount Lofty and Mount Magnificent, was opened. It was Terry who brought this concept into reality, and over the next 15 years, with Terry's commitment, sections the Heysen Trail were progressively opened until it's completion in 1993. The development of the trail by the Department of Recreation and Sport was made possible by the cooperation and support of state government departments, many district and local councils, numerous volunteers and most importantly, some five hundred individual landowners.
The Heysen Trail is recognised internationally as one of the world's great long distance walks. As a South Australian achievement, its success must go to the people of South Australia who have continued to support the trail with enthusiasm.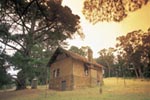 The trail is named after German born Sir Hans Heysen (1877-1968), a well-known Australian artist, particularly recognised for his watercolours of the Australian bush and his strong associations with both the Mount Lofty and Flinders Ranges. His house, "The Cedars", is located on the trail near Hahndorf in the Adelaide Hills.
In 2005 the Heysen Trail was awarded a place amongst BankSA's Heritage Icons.
Logbooks from Huts
Logbooks are kept in many huts along the Heysen Trail. Archived logbooks can be found on our logbooks page.
Further Reading
Further reading about aspects of the history of the Heysen Trail are available:
History of the Heysen Trail (C Warren Bonython AO – Patron of the Friends of the Heysen Trail, 1987)
C Warren Bonython AO – Obituary (The Advertiser, 26 May 2012)
Terry Lavender – Architect of the Heysen Trail (Trailwalker article, August 1999)
Terry Lavender – Obituary (The Advertiser, 24 January 2004)
Biography of C Warren Bonython AO (Patron of the Friends of the Heysen Trail)
The Last Post: or How to Build the Heysen Trail in 400 Years or Less,
by Terry Lavender, Bookends Books, 2001, ISBN 1 876725 01 X
Bookends Books bookends.bookshop@adelaide.on.net
Or contact Wakefield Press: www.wakefieldpress.com.au
Walking the Flinders Ranges, by C. Warren Bonython, 1971 Rigby (reprinted 2001 Royal Geographical Society of South Australia)
Heysen Highlights – Companion Guide to the Heysen Trail, by Simon Cameron, 2018 Openbook Howden. Available from the Friends of the Heysen Trail.

Archive film from 1986

Terry Kreig reflects on the impact of Warren Bonython on the Heysen Trail

Obituary of C Warren Bonython AO, The Advertiser, 26/5/2012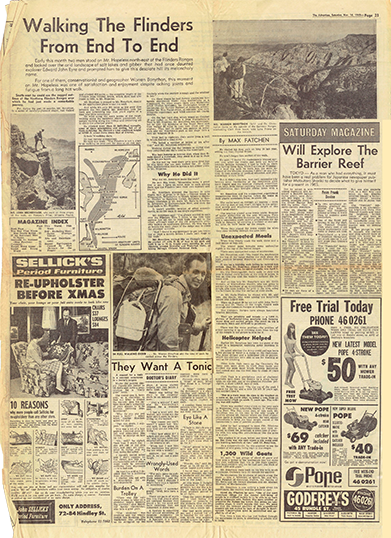 Newspaper article: Walking the Flinders End to End, Warren Bonython, The Advertiser, 16/11/1968