From September 2014, a series of 8 new map sheets were released by the Department for Environment and Water (DEW).
Prior to this two guide books were published by DEW. Each book contained 54 or 56 individual 1:50 000 topographic maps (1cm = 500m), each covering half of the Heysen Trail. Both of the guidebooks are now out of print and no longer available.
From time to time, it is necessary to realign sections of the Heysen Trail. View details of re-routes.
These map sheets are available for purchase online. The mapsheets are also available from leading outdoor stores and map retailers.
There are 8 maps in the new series (publishing from September 2014 onwards):
Map sheets 1, 2, 3, and 4 replaced the Southern Guidebook.
Map sheets 5, 6, 7 and 8 replaced the Northern Guidebook.
Map Sheets – new from September 2014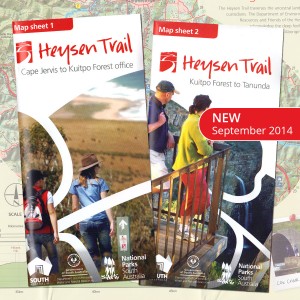 The map sheets include 4 detailed 1:50 000 topographic maps of the sections of the Heysen Trail covered by this map sheet.
Mapsheets
Map features
1:50 000 scale (1cm = 500m)
Fold-out map, double sided, water resistant paper
Elevation profiles with km markers and crossing point names
Loop trails in national parks
Location of supplies & facilities
Important contact details
Interesting facts along the Trail
Accommodation and campsites
Advice on walking and safety