Hello happy readers,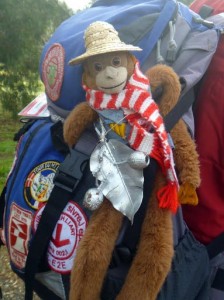 To start our final year on the trail we had an easy one-day walk – a catch-up for the postponed last walk in 2014. Our numbers had reduced due to a couple of our walkers suffering injuries in the 'off' season. So it was down to The Woods of Mount Crawford with a random assortment of teddy bears and a screaming baboon called Super Morris Major!!!
At the end of May we were back on track with a weekend walk through the areas burnt out by the Sampson Flat fire of early January. There was much evidence of rebuilding with new fences and logging of burnt forests presenting challenges and detours. However, it was a cleared house site that was "very sobering" where all walkers appreciated the devastation faced by many in the fire's path. I spent the weekend riding with Neil and Ann of the Greening Committee and I am not sure if they took my ideas for replanting the forests seriously.
The month of June saw us well and truly into the Adelaide Hills – and there were lots of them. Robert carried me up all of them on the first day, even the big long steep climb away from Sixth Creek towards Montacute Heights. It was tough going for him having just returned from China where he had scaled thousands of granite steps and taken one huge leap when he proposed to Lucy. On Sunday I was challenged in 'The Cutest Backpack Accessory' stakes when the Kelly's daughter and son-in-law joined us from Third Falls lookout to Colonial Drive with 9 month old grandson Leighton on board. Robert had passed me over to Albert who had shown that he could quite easily carry extra load. Maybe I became too heavy for Albert because at one point he stumbled and cracked his head, requiring some first aid. Anyway, we all made it through a long tough weekend ending at Cleland Wildlife Park.
Christmas in July rewarded us the returning presence of Marlene, Dom and David. The day started with perhaps just a hint of a possibility of snow, but it didn't. However, we did suffer a white-out when fog shrouded Mount Lofty summit. Our leader aborted the intended detour to the top to look over the city then promptly declared it was "all downhill from here to Cape Jervis"! On reaching Mylor we were amazed at how much bushland we had walked through along the most densely populated section of the Heysen Trail. The overnight storms had cleared to greet us with sunshine on Sunday morning. The boardwalks near Long Gully were really appreciated as all waterways were running. Most walkers took the opportunity to take the underground trail option at Jupiter Creek Gold Diggings. Next up was entering Kuitpo Forest where, for the second time in FoHT history, two End-to-End groups met, with E2E9 sharing the trail with us. Once again the weather was kind although the trail was soggy under foot.
Only two more walking weekends remain before we hit the south coast for a 6-day walking week which sees E2E-1 completing their Heysen Trail at Cape Jervis on Saturday 24th October. I extend an invitation for fellow walkers, friends and mascots to join us for any or all of our remaining walks. Maybe you would just like to greet us at the 'final stile' and/or join us for our celebration dinner at the McCracken Country Club at Victor Harbor on the Saturday night? Check the walk program for details ( Note: There is a separate registration for the last walking day/dinner).
With excitement building as the end approaches…
Morris Minus.
(Photos by Mary Cartland)