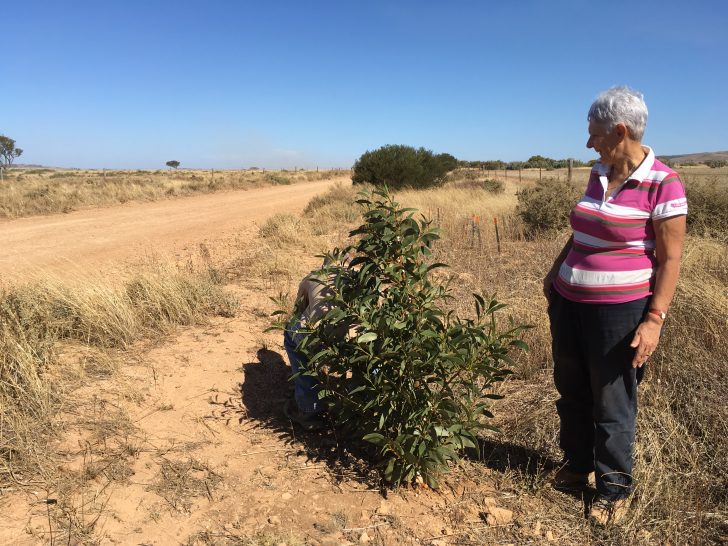 Thank you to the many volunteers who have helped plant trees on the Heysen Trail. The efforts of the Greening Committee and volunteers since 2013 are visible in a number of locations along the trail.
As an example of their work, the trees planted at Worlds End a few years ago can now actually be seen along the road at Duttons Trough (south of Burra).
Most of the trees are still only about knee high but they are starting to stand out from the other roadside vegetation.  The best of the trees is scarcely large enough to hide behind (although the photo shows Neil is having a good try!). It has almost doubled in size over the last twelve months.
Our tallest tree, the Worlds End Wonder, is 1.75m and has shot up recently.
The good rains we've had over the last 12 months have helped, but the trees have also benefited from special care and supplemental watering provided by the Greening Committee.
In addition to Duttons Trough, the Greening Committee has also managed plantings at Centennial Drive in the Mount Crawford Forest, Hiskeys Hut and along the Bundaleer Channel reserve south of  Spalding.
This year we are planting at Lights Pass on the Lavender Federation Trail.
Thanks again to the Greening volunteers and End to End walkers who have helped. Your efforts will be appreciated by walkers in the years ahead.