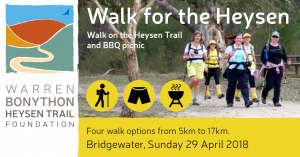 Walk for the Heysen
Sunday 29 April 2018
Bridgewater Oval, Mount Barker Road, Bridgewater
Walk on the Heysen Trail and BBQ picnic
Walk for the Heysen – experience local parks and native scrub and have fun while supporting the Warren Bonython Heysen Trail Foundation's 2018 fundraising efforts. The foundation supports the improvement of facilities and the environment on the Heysen Trail & other walking trails.
Four walk options from 5km to 17km.
Walks depart from 9.00 am. Arrive in time to register before your walk.
All walks depart from and arrive back to the Bridgewater Oval. Walks are designed to suit all ages and standards of walking fitness.
Bring the family for a great day out in the Adelaide Hills.
After the walk grab a BBQ meal (included in registration fee) at the Bridgewater Oval, or bring your own picnic. The picnic area includes the football club rooms, toilets and parking.
In keeping with the tradition of the Warren Bonython Memorial Walk conducted by the Friends of the Heysen Trail in 2013, the theme for the day will be yellow.
A prize consisting of a Heysen Trail merchandise pack (value $100) is up for grabs to the best yellow sartorial costuming on the day.
Tickets
$30 for adults, $5 for children, $60 for families
You may also choose to make a one-off donation to the Foundation through the Foundation's web site: Warren Bonython Heysen Trail Foundation
The Foundation is registered as an environmental charity and donations are tax deductible.