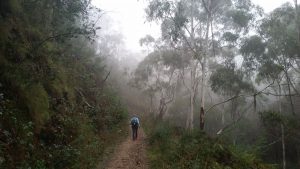 From the Fleurieu Peninsula to Mt Lofty
In early spring, the Friends of the Heysen Trail will be offering the opportunity to complete 6 consecutive sections along the Heysen Trail, starting from the little hamlet of Inman Valley through to Mt Lofty in the Cleland Conservation Park.
The walks commence on Monday August 30th and continue through to Sunday September 5th 2021.
Led by experienced walk leaders, these 6 walks will pass through the rolling environs of the Fleurieu Peninsula, a number of delightful conservation parks and picturesque forestry reserves into the southern reaches of the Adelaide Hills.
The walks culminate with a climb up to the summit of Mt Lofty and then down to the Cleland Wildlife Park.
What a great opportunity to complete six sections of the Heysen Trail in one hit!
You can find out more about the walks and register using this link to our website walk calendar Fleurieu to Mt Lofty walks.