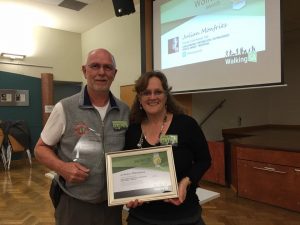 The Friends won an award on Thursday night at the Walking SA Awards for South Australia, for our work on the HeysenTrail and for our End-to-End walking program.
Special Recognition Award – Organisation – http://bit.ly/2dyLYCo
Two of our members also won Walking SA Awards for Longstanding Contribution – Individual. Colin and Julian were awarded for an enormous amount of work they have put in over many many years. These two are very worthy recipients of the inaugural awards. We depend on volunteers to develop and support hiking, hiking trails and our hiking programs, and in recognising their work, we also reflect on the dozens of volunteers that have, and continue to support walking and hiking trails in South Australia.
Colin Edwards – http://bit.ly/2dTqAaL
Julian Monfries – http://bit.ly/2dwrc6w