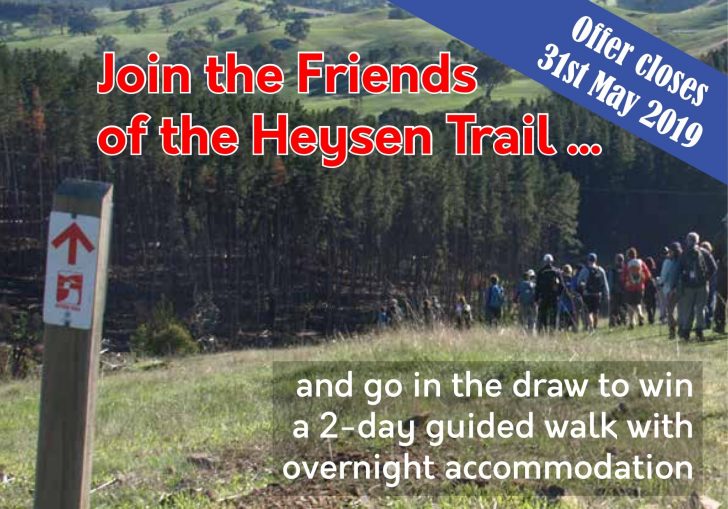 Join the Friends of the Heysen Trail before 31st May and win.
Financial members of the Friends of the Heysen Trail support the ongoing maintenance and greening of South Australia's premier walking trail; participate in an extensive 2019 walks programme and receive the quarterly full-colour 32-page Trailwalker magazine.
If you join the Friends of the Heysen Trail between 1st March and 31st May 2019 your name goes into the draw to win a 2-day guided walk on the Heysen Trail and overnight accommodation at Heysen's Rest B&B, Myponga*. The accommodation includes complimentary beer and wine, and provisions for a cooked breakfast; drop off at the end of your guided walk and pick up next morning from your accommodation.
One year's membership costs only $25 single, $40 family and $10 student. The easiest way is to join on-line. Simply go to the membership page of the Friends of the Heysen Trail website for more information and to join.
Our website also has more information about the Heysen Trail, Friends activities and our walking program.
*The prize must be redeemed in the 12-month period following the closing date of the competition. Accommodation is limited to two adults, although the winners can bring family and guests on the guided walk. Competition closes Friday 31st May 2019. The winner will be notified after the draw in the Friends of the Heysen Trail office at Suite 203 Epworth Building, 33 Pirie Street, Adelaide 5000.