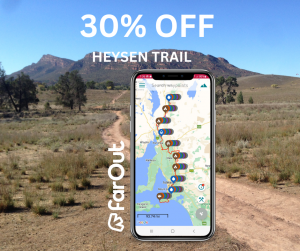 Heysen Trail on sale at FarOut Guides.
Advice has been received from FarOut Guides that the Heysen Trail (and other trails) will be available at a 30% discount as part of the Black Friday Sales … from 4pm on Nov 25 till 4pm on Nov 30th.
You will be charged in Australian dollars at checkout.
To purchase the Heysen Trail go to https://app.faroutguides.com/guides/Heysen%20Trail