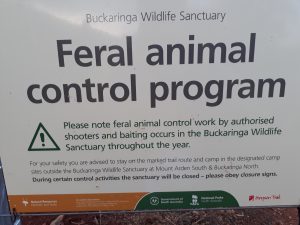 The Buckaringa Sanctuary will be temporarily closed for 3 days in late August 2022. As the Heysen Trail passes through the sanctuary, we advise walkers to consider the closure if planning to walk in the area.
The closure will commence on the evening of Friday 26th August and continue until the morning of Monday 29th August 2022.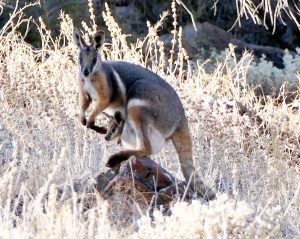 The Buckaringa Wildlife Sanctuary is home to many Yellow-footed Rock-wallabies and is located between Quorn and Hawker. You can find it on map 6, chapter 4, of the Heysen Trail Northern Guidebook and on Sheet Map 7b – Dutchmans Stern Conservation Park to Mernmerna Creek.
The Heysen Trail enters the southern boundary of the sanctuary at grid reference 195 440. The northern section on the trail exits the sanctuary at 257 490.
The closure affects the trail in the following walk sections:
51 Warren Gorge to Buckaringa Gorge
52 Buckaringa Gorge to Callabrinda Creek
The closure is because the Australian Wildlife Conservancy (AWC) will be undertaking feral animal control in the sanctuary.
AWC will place closure signs at all entry points to the sanctuary to warn walkers of the danger.