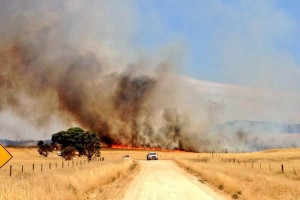 The Country Fire Service (CFS) has announced the dates for the 2022/23 Fire Danger Season.
Many sections of the Heysen Trail are closed during the Fire Danger Season. As the trail passes through several fire ban districts, the trail closures commence progressively from Tuesday November 1st.
Flinders District Fire Danger Season to commence on 1st November 2022.
The Flinders District covers the Heysen Trail north of Wirrabara. The trail in this section includes Melrose, Wilmington, Quorn, Hawker, Wilpena Pound, the Ikara-Flinders Ranges National Park through to the northern end of the trail at Parachilna Gorge.
This section of the trail will be closed between November 1st 2022 and April 15th 2023.
Mid North District Fire Ban Season to start on 15th November 2022.
The Mid North District includes the trail between north of Tanunda and south of Wirrabara. The Heysen Trail between these locations will close on November 15th 2021 and reopen on April 30 2022.
Mount Lofty Ranges Fire Ban Season to commence on 1st December 2022
The CFS has also announced the fire danger season for the Mt Lofty District will commence on 1st December 2022 and continue through until midnight on 30th April 2023.
As indicated above the Heysen Trail will reopen during April/May 2023. The re-opening dates vary across the three Fire Ban Districts the Trail passes through.
Some sections of the trail remain open over the Fire Danger Season
During the declared fire danger season some sections of the Heysen Trail remain open to walkers. They are principally the sections of the trail that are not on private land. These include public roads, Conservation Parks and Reserves, Forests and vacant land.
Please note that Conservation Parks and Reserves and Forests are closed on days of Total Fire Ban. The CFS publishes these bans, as does the Bureau of Meteorology. In addition, the media also broadcast weather reports including fire ban information.
If you want to walk on the trail, check which Fire District you will be in. The Fire Districts are listed on the Fire Danger Season page and shown on the Interactive Map on the Friends website.