The 1,200 kilometre hiking Heysen Trail passes through some of South Australia's most diverse and breathtaking landscapes, traversing coastal areas, native bushland, rugged gorges, pine forests and vineyards, as well as rich farmland and historic towns.
Essential Information
Open April to October each year
Many sections of the Heysen Trail are closed during the Fire Danger Season, closure dates vary across the trail.
The Wild South Coast Way, the spectacular 80 km section between Cape Jervis and Victor Harbor is open all year round.
Maps
There are 8 Sheet Maps available from leading outdoor shops, map shops and the Friends of the Heysen Trail.
An Interactive Map interface is available, and GPS files can be downloaded for navigational use on your personal handheld GPS.
You can also purchase an electronic version of the trail map from FarOut (formerly Guthook). Firstly download the FarOut app free of charge for your iPhone or Android device. Then purchase the FarOut Heysen Trail map within the app.
Re-Routes of the Trail
Get details of re-routes affecting the Heysen Trail.
Camping along the Trail
Up-to-date details of each campsite and hut along the trail can be found via our Accommodation page or the Interactive Map interface, simply select the Accommodation checkbox. Campsites are marked in each guidebook, however over time some campsites have been closed, new ones opened, or campsites have been moved. Details are also shown of towns, such as bed & breakfasts, hotels, caravan parks, motels and hostels.
View and plan distances between campsites and towns.
Water tanks
There are many water tanks at campsites and shelters along the trail. You will find the location of tanks and town water supplies by using the Accommodation layer on our Interactive map
Recent readings of the water levels in tanks are displayerd on our Water Tanks Levels page. Tanks cannot be relied on for essential drinking water. Always carry enough in case a tank is empty.
Service Directory
A directory of services along the Heysen Trail for continuous end-to-end hikers or through hikers, who are hiking the entire or considerable lengths of the Heysen Trail at once. The services listed include:
supermarkets
general stores
pharmacies (chemist stores)
doctor clinics, hospitals
internet access
payphones
public toilets
post offices
Transport
Details of buses, taxis and private tour operators that service the trail and towns along the Heysen Trail.
The Trail passes through some of the most scenic parts of the state including national parks, state forests and internationally acclaimed tourist destinations, including the Barossa Valley and the stunning Wilpena Pound.
The southern section, from Cape Jervis to Spalding in the Mid North, is ideal for beginners and those with children, following the Mount Lofty Ranges. The northern section, from Spalding to Parachilna Gorge, is isolated and at time rugged, provides a rewarding challenge for experienced walkers.
The Trail has been designed to cater for both the serious backpacker walking the complete trail, and for the day walker who might choose to do short walks along different sections of the trail.
The Trail is managed by a partnership between:
The Trail passes through: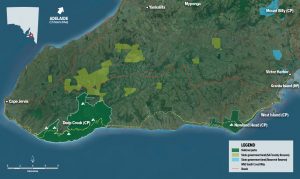 The southern section of the Heysen Trail, along the Fleurieu Peninsula between Cape Jervis and Victor Harbor will form the Wild South Coast Way. The project will create a five day, four night hike and other high quality trail-based experiences. The trail upgrade will attract more visitors, promote accessibility for all, and provide opportunities for private sector investment in nature-based tourism. The project, announced in 2019, is an initiative of the South Australian government, in partnership with the Friends of the Heysen Trail, First Nations, Yankalilla District Council, City of Victor Harbor, park users and the private sector. For more information, visit heysentrail.asn.au/heysen-trail/wild-south-coast-way.
For information about walking beyond the northern trailhead of the Heysen Trail, from Parachilna Gorge to Arkaroola and beyond, visit heysentrail.asn.au/beyond-the-heysen.
Trail Standard
The Heysen Trail is a long distance walking trail that crosses numerous landscapes and environments. Although walkers of all ages can enjoy the Heysen Trail you are advised that the majority of the trail corresponds within Classes 4-5 of the Australian 2156.1-2001 Walking Tracks – Classification and signage.
Track conditions are generally distinct with limited modification to natural surfaces. Minimal clearing of debris along the track.
Gradient is limited to environmental and maintenance considerations. May include steep sections of unmodified surfaces.
Minimal signs are for management and directional purposes.
Facilities are generally not provided except for specific safety and environment purposes.
Users require a moderate to high degree of specialised skills such as navigation skills. Users may require maps and navigation equipment to successfully complete the track. users need to be self reliant, particularly in regard to emergency first aid and possible weather hazards.
Biosecurity
The Heysen Trail traverses agricultural properties, national parks and other sensitive landscapes. Walkers may inadvertently transport diseases, pest and weeds on their boots, clothing or other equipment.
Pest, animal and weeds have a negative impact on Australia's eco systems and our valuable agricultural industries. Pest animals and plants can harbour diseases which may cause environmental and economic damage.
Ensure you are not transferring weed seeds and unwanted biological material. You can do this by checking and cleaning your clothes and equipment for plant or soil debris before entering walking tracks.
[/foht_row]
Phytophthora
Phytophthora is an introduced root-rot disease which is killing native plants. Plants that are susceptible include gums, banksias and yaccas – all of which provide important habitat and food for native wildlife.
There is no cure for Phytophthora, nor is there any way of stopping its spread once it has infested an area. We can, however, slow down its movement, and minimise its introduction into new areas by modifying the way we behave in Phytophthora infested areas or Phytophthora prone areas.
Phytophthora has the ability to live in most of the southern areas of South Australia, including the Mt Lofty Ranges around Adelaide and the Fleurieu Peninsula.
Bushwalkers can spread Phytophthora by allowing moist soil and plant material to stick to footwear. Please use the footwear cleaning stations along the Heysen Trail, read more information in the Department for Environment & Water (DEW)'s Phytophthora Information Brochure.
Walkers travelling in effected areas (generally south of the Barossa Valley) should carry a personal cleaning kit including hard brushes and a disinfectant (methylated spirits, or 20% household bleach with 80% water in a spray bottle).
Remember: the best way to control the fungus is to prevent the dispersal of infested soil or plant material. Spread the word – not the fungus!