Camping on the Heysen Trail
Huts vary from either stone or timber settler's cottages and old public buildings. Water is available at most, but not all, campsites and huts. Specific detailed information about each campsite, shelter and hut is available below. Most of the huts are basic, offering only a small sleeping shelter with a rainwater tank. Walkers should aim to be self-reliant. The huts incorporate facilities such as a rainwater tank, simple bunks, toilet, fireplace, tables and seats.
Generally there are no fees for using the huts and shelters. Most huts cannot be pre-booked or reserved, so you are advised to carry a tent in case they are fully occupied upon your arrival.
Huts and campsites in national parks and forests incur a fee and need to be booked on-line in advance. Most huts and campsites in forests need to be booked in advance.
Refer to the booking instructions for these sites in the Accommodation listing below.
Private campsites such as caravan parks require payment.
'Walk-in' sites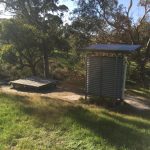 The Accommodation list includes over 40 locations classified as 'Walk-in' sites. These locations are generally on private property or Crown land (including some in national or conservation parks). The sites are on the trail and not accessible by motor vehicle. As such require walkers need to carry in a tent and other camping equipment.
Shelters
Many of the shelters are primarily constructed to capture rainwater rather than provide sufficient space to sleep – these are noted as small shelters.
Medium and large shelters usually have three walls with one open side, suitable for sleeping during inclement weather.
Caravan Parks, Hotels, Motels, B&Bs and Self-Contained Cottages
There are many commercial accommodation options available near the trail, or in towns the trail passes through or near to. Information about many of these is provided below.
Rain water tanks
There are over 80 'Water tanks' (at campsites and 'walk-in' sites) and 'Water only locations' along the trail. Due to remote location of some of the tanks and the dry summers, particularly in the northern regions, water supplies can be unreliable.
Walkers, especially through walkers, need to be aware that water and its quality cannot be guaranteed along the Trail. You can check the latest reports of water levels by checking Water Tank Levels page.
Walkers are encouraged to report the level of water held in tanks. You can help other walkers and our Office Volunteers keep a track of water supplies. Tell us about tank water levels and quality using this link to our Report a Tank Level page. You can select the tank site using a 'drop down' list of tanks.
Whilst we endeavour to have up to date information on water levels on all our tanks, due to the remote location of some, this is not always possible.
We also recommend that you treat the water before drinking.
In addition to these resources, water can also be obtained in towns.