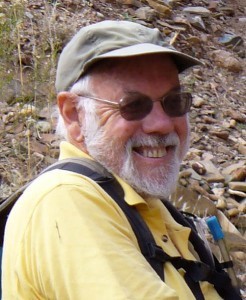 David joined the Friends in 1996 about the time he retired from teaching. Within two years he had become entrenched in the office and become co-Membership Secretary in 1998, a post he held until 2009. At the same time, he joined the Walk Committee and started leading walks for the Friends.
The genesis of the End to End walk program
In 1999, at Walk Committee meeting, David suggested that, as we maintained the Trail, maybe we should also be facilitating our walking members to undertake the Trail, End to End.
As the first walk started in 2000, it was known as the Millenium Walk, however over time this has morphed into End-to-End One and then the End-to-End programme.
Consequently, he co-lead the first End to End, starting in 2000 and finishing in 2006 and then 2002, not happy with heading north, he started a southern trek from Parachilna south which he completed the next year.
The End to End walks have become extraordinarily popular as a result consequence of a simple suggestion, he made in 1999. The result so far is 15 groups and over 1,100 people introduced to hiking and the Heysen Trail.
David, the Administrator
David joined the Friend's Council in 2003 and became Secretary in 2006, a position he held until 2008.
He was also a keen participant in maintenance, as Section Leader, strong, resilient, and resourceful and like many big men, quiet and thoughtful. His counsel was always considerate and considered.
In 2007, David was elected as an Honorary Member for his considerable contribution to the Friends.
In 2017, Walking SA bestowed on David a Special Recognition Award for his contribution to walking and the Friends.