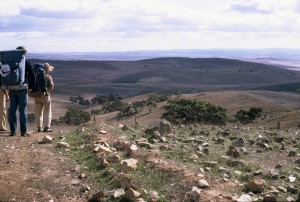 The ownership and management of the Bundaleer and Wirrabara Forests may soon change, following the Mid North Forests Future Strategy which commenced after the devastating bushfires of 2013 and 2014.
The State Government is proposing to use the Recreational Greenways Act 2000 to protect the Heysen and Mawson Trail networks for recreational access in perpetuity for use by walkers and/or cyclists. This will create a greenway over sections of the Heysen and Mawson Trails within Wirrabara and Bundaleer Forests that are proposed to be sold to private parties.
We have some concerns with regard to the proposed changes, which we have outlined in our submission below. Our main concerns relate to the proposed change to the route in Bundaleer that removes the section walked from Curnow's Hut to New Campbell Hill and consequently removes the extensive views across the Spencer Gulf as well as extending the distance.
Submit your feedback via yoursay.sa.gov.au/greenways by COB Monday 12 June 2017.