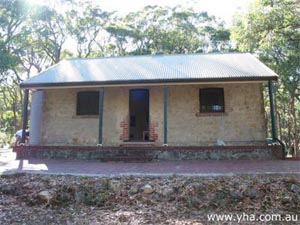 Accommodation
Self contained unit/house
Mapsheet
Mapsheet 2B, Bridgewater Oval to Stone Hut Road
Guidebook
Southern Guidebook, chapter 3, map 4
Location
Gate 25, Summit Road, Crafers, in the Cleland National Park
Located within walking distance to Mount Lofty Summit and Cleland Wildlife Park.
Fees
$180/night (as at 8/10/2022)
Facilities
Cottage sleeps up to ten people in three bedrooms (two queens and three sets of bunks). The cottage is self-contained with crockery, cutlery, cooking utensils, pots & pans supplied. Bring your own sheets, pillows, blankets and towels.
There are 2 water tanks but they behind a padlocked gate and are not accessible to the public.

History
Originally built as a two-roomed hut, probably to accommodation shepherds working for Arthur Hardy or Sir Samuel Davenport. Hardy and Davenport were two of the first large estate landowners on this side of Mount Lofty Summit. They used the land chiefly for pastoralism and logging but also some agriculture, including the growing of vines and olives. Hardy was the first 'colonial gentleman' to build a summer house on Mount Lofty - nearby Mount Lofty House in the 1850s.
Notes
Not really suitable for through walkers as the keys have to be collected from Belair National Park.