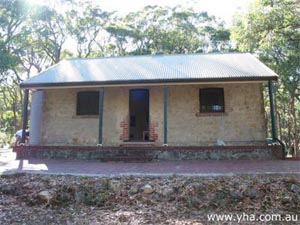 Accommodation
Self contained unit/house,
Water Tank
Mapsheet
Mapsheet 2B, Bridgewater Oval to Stone Hut Road
Guidebook
Southern Guidebook, chapter 3, map 4
Location
Cleland Conservation Park
Bookings
Pre-booking is essential. Key pickup from Adelaide Central YHA - 135 Waymouth Street, Adelaide (08) 8414 3010.
Fees
From $135 per night (exclusive use for up to 10 people) - valid as at October 2020.

Facilities
Recently renovated cottage with new kitchen, flooring, furniture, paint and decorations. Sleeps up to 10 people with 2 double rooms and one bunk room.
History
Originally built as a two-roomed hut, probably to accommodation shepherds working for Arthur Hardy of Sir Samuel Davenport. Hardy and Davenport were two of the first large estate landowners on this side of Mount Lofty Summit. They used the land chiefly for pastoralism and logging but also some agriculture, including the growing of vines and olives. Hardy was the first 'colonial gentleman' to build a summer house on Mount Lofty - nearby Mount Lofty House in the 1850s.