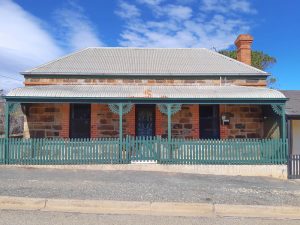 Mapsheet
Mapsheet 3D, Tothill Gap to Burra;
Mapsheet 4A, Burra to Caroona Creek Conservation Park
Guidebook
Southern Guidebook, chapter 5, map 14
Location
10 Paxton Terrace, Burra 5417
Contact
info@burrabedandbreakfast.com.au
Facilities
https://burrabedandbreakfast.com.au/
The cottage consists of two roomy bedrooms each with a queen bed joined by a hallway to a large lounge. Additionally the entire area is carpeted.
A third bedroom off the lounge room has a single bed and is available for a fee on request.
The rear section of the cottage offers a good sized kitchen with an original wood stove. The bathroom, laundry and toilet area make up the rest of the house. This section of the cottage is all hard floored.
History
The Burra Burra Copper Mine was established in 1848 mining the copper deposit discovered in 1845.

Coppervilla was built in about 1890 of local blue-stone in a classic Cornish style.