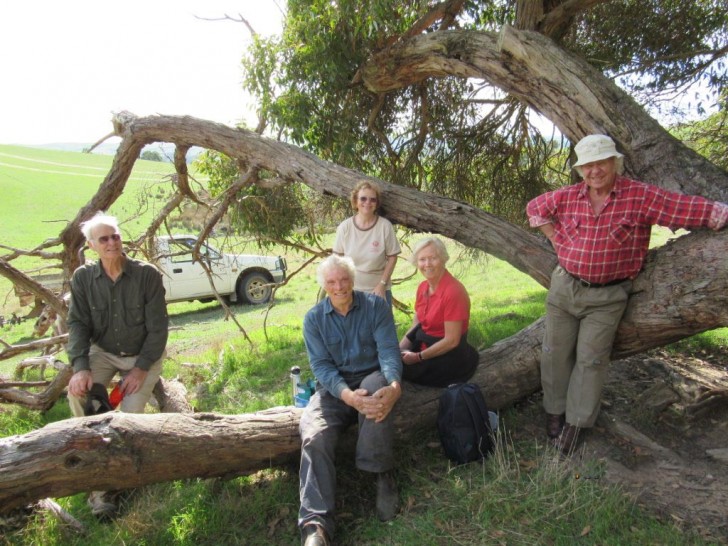 The Wandergruppe Bushwalkers of the South-Australian German Association (SAADV) are celebrating 15 years of membership in the 'Friends of The Heysen Trail', and with it, 15 years during which the Bushwalkers have been helping to develop and expand the Trail and boost its recreational potential.
Since its foundation in 1991, the Wandergruppe has undertaken 700 walking trips in South Australia covering over 9,000 kilometers of trails, including the full 1,200 kilometer length of the Heysen Trail.
Early one morning in 1998, an idea for a project hit bushwalking group leader Hermann Schmidt. On first putting the idea to the Wandergruppe Bushwalkers, Hermann could read from the face and body of each of his fellow bushwalkers the extent to which the project he proposed struck them as nothing short of jaw-dropping, mind-blowing and awe-inspiring.
The idea put forward by Hermann was to try an end-to-end walk of the Heysen Trail, and the Wandergruppe – made up of dedicated bushwalkers aged forty to ninety – decided to give it a go. Together with deputy group leader Fred De Ceukelaire, and many a hard-earned feat later, the Wandergruppe completed their final stage of the Trail in Bundaleer in 2010, coming away with the feeling that the Heysen Trail springs a surprise or two for even the most experienced bushwalker.
Achieving the end-to-end walk of the Heysen Trail also coincided with the Wandergruppe reaching its 10th year of responsibility for maintaining the Myponga section of the Trail.
"Our focus is on the safety of the walker",
Hermann points out. "Since 1999, we have erected three bridges with a length of up to 20 meters, four creek crossings and 70 meters of board walk", Hermann is pleased to report.
Maintaining the Myponga section involves some large and a fair bit of small routine work. The Wandergruppe sees to it that paths through the Conservation Parks are accessible, pruning bushes and shrubs. By far the most complex and demanding work though is the regular upkeep and maintenance of the bridge constructions. Hermann Schmidt gives each of the bridges a close inspection once a year, carrying out on-the-spot repairs where necessary.
Two years ago, the Wandergruppe took charge of another stretch of the Trail, Section 3, which increased the Bushwalkers' workload. "I put together a crew of five walkers and we went on an inspection walk", Hermann explains. "We found that some spots needed major changes, including changes in the way the route was located, because initially the section was far from fit for walking." The job done, the Wandergruppe rounded off by setting up 'monitor boxes' for the walkers' better orientation.
On top, the Wandergruppe volunteered to carry out necessary additional work that popped up in adjacent sections of the Trail. "It's our way of showing how much we have the Heysen Trail and the walkers of the Trail at heart," Hermann explains the extensive track record of the Wandergruppe Bushwalkers.