The Heysen Trail
Interactive Map
View Interactive Map showing the Heysen Trail with accommodation options, re-routes, Fire Ban Districts and Tourism Regions.
The Heysen Trail
South Australia's 1,200km Heysen Trail extends from Cape Jervis, on the Fleurieu Peninsula, to Parachilna Gorge, in the Flinders Ranges, traversing coastal areas, native bushland, rugged gorges, pine forests, vineyards, rich farmland and historic towns.
It caters for both the serious backpacker hiking the entire trail and for walkers doing day walks along shorter sections.
When to Hike
The Heysen Trail is generally open between April and November. During the summer Fire Danger Season, much of the trail is closed.
The first 80km section of the Heysen Trail between Cape Jervis and Victor Harbor (the new Wild South Coast Way on the Heysen Trail) is open all year round, except that it will be closed on days of catastrophic fire danger. The Parks website should also be checked on days of extreme fire danger or total fire bans.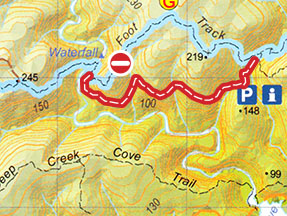 Re-Routes
Due to maintenance or access issues it is occassionally necessary to re-align sections of the Heysen Trail.
Service Directory
List of services along the Heysen Trail: supermarkets, general stores, medical services, internet access, payphones and post offices.
Maps
Map sheets and guidebooks published by the Department for Environment and Water (DEW). From September 2014, the two guidebooks (the Southern Guide from Cape Jervis to Spalding and the Northern Guide from Spalding to Parachilna Gorge) were superseded by eight map sheets. Buy online now from $15 with postage from $3.80.
GPS Files
Download the GPX or KML waypoint data files to load onto your GPS unit for use as a navigational aid when walking the Heysen Trail.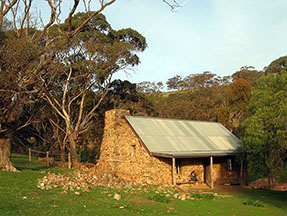 Huts & Camping
Scattered along the Heysen Trail are numerous campsites, huts, shelters, caravan parks, hotels and bed & breakfasts. View accommodation options.
The Friends
The Friends of the Heysen Trail
The not-for-profit organisation the Friends of the Heysen Trail maintains the Heysen Trail in partnership with the Department for Environment and Water (DEW).
A regular walking program occurs year-wide, with different grades of walks catering for beginners to experienced walkers.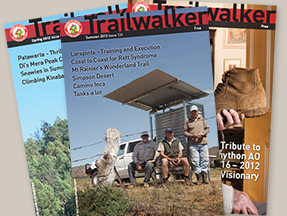 Trailwalker Magazine
The magazine published by the Friends of the Heysen Trail in April, August & December. Download the latest Trailwalker issue.
End-to-End Walks
End-to-end walks
are for those wishing to complete the entire Heysen Trail. As the schedule and trail logistics are done by the Friends they are easy for walkers to participate in.
Print Walk Programme
Download an easy-to-print
season walk programme
. View
online walk calendar
.