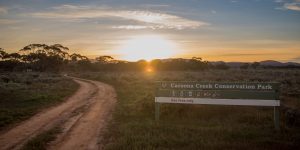 Heysen Trail walkers are advised that a number of parks in the Mid North will be closed from 6am Sunday May 24th until 6am Monday, June 1st 2020.
The park closures that will affect Heysen Trail walkers are:
Caroona Creek Conservation Park
Hopkins Creek Conservation Park
The parks will be closed for the purpose of undertaking a pest control program. Walkers will not be able to access the Heysen Trail in and adjacent to the parks during this period.
The parks are located south and north of Burra. Affected sections of the trail can be found on
Heysen Trail Map Sheets 3D, 4A & 4B and
Southern Guide Book Maps 5.10, 6.4 and 6.5
For more information about the control program or the park closures, please refer to the Parks Closure notice or contact the Natural Resources Centre Northern and Yorke on (08) 8841 3400.
Unfortunately we received late notification of this closure. When planning walks on the trail we recommend you check the Parks Alerts page to check whether parks that you intend to visit will be affected by a closure.