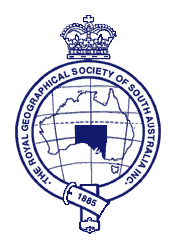 5:30pm Thursday 18th June 2015, hosted by Royal Geographical Society
Goodman Lecture Theatre, Hackney Road.

The death of Warren Bonython in 2012 at the age of 95 marked the passing of a person who had made an unparalleled contribution to our understanding and knowledge of the natural environment of South Australia.
He was a member and contributor to many organisations including time as President of the Royal Geographical Society and Patron of the Friends of the Heysen Trail, but it was his outstanding personal achievements, his remarkable treks, his le
adership and vision, and his books, that constitute such a powerful legacy for our state.
The 1950 filling of Lake Eyre saw Warren a key member of the Lake Eyre Committee set up by Archibald Grenfell Price. His fascination with the Lake Eyre Basin continued over the years with numerous scientific field trips and treks in both wet and dry seasons.
The guest is Terry Krieg, who completed an epic 500 kilometre hike with Warren around Lake Eyre in 1982, and authored the book Walking on Eyre and Walking with Warren.