Additional Walk Planning Tools
We've launched a new website with more tools to assist you in planning where to walk on the Heysen Trail, where to stay and how far to walk.
Buy Heysen Trail guidebooks, regional road maps to access the trail, and other walking books and maps in our new online store.
Four New Walk Planning Tools
Walk Selector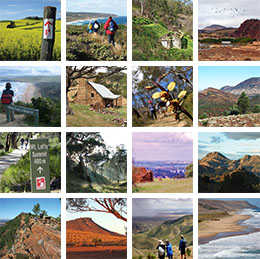 We've brought back the Walk Selector tool from 2013's Warren Bonython Memorial Walk.
Compare 60 trail sections to find an area to hike. Refine walk sections by region, distance, terrain and photo.
Heysen Trail Distances
Table of distances between Heysen Trail locations such as huts, campsites and towns.
Download spreadsheets of distances to plan your long distance walks.
What's Happening on the Heysen Trail
Keep in touch with the Trail